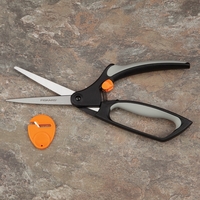 Fiskars® Softouch™ Scissors
All-purpose shears feature a safety lock and a spring-loaded handle.
Fiskars® Softouch™ Scissors are ergonomically designed.
Padded non-slip handles help reduce stress on hands.
Blades measure 4" (10cm) long.
SplintMarkers
Indispensable for tracing patterns on splinting materials.
SplintMarkers™ traced lines stay on thermoplastics, even when immersed in water.
Sold in a package of 12.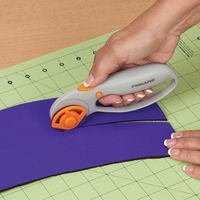 Fiskars® Rotary Cutter
Rolling action makes cutting clean, straight edges a breeze.
Fiskars® Rotary Cutter has a contoured loop handle that fits comfortably in the left or right hand. 
Available with a 1-3/4" blade.
90 Degree Wire Bender
Create perfect right-angle bends for outrigger wires.
The 90 Degree Wire Bender has cushioned vinyl grips to help eliminate stress on the hand.
Safety latch keeps the handles and jaws closed.
Spatula
The Spatula is useful for safely lifting warm thermoplastics out of heating pans. Tapered edge decreases marks to the splint.
Revolving punch
Heavy Duty Revolving Punch Pliers are made of forged steel.
Use to punch holes for rivets and perforations.
Carbon steel cutting tubes are threaded for easy replacement.
Six tubes punch holes from 3/32" to 11/64" (2.4 to 4.4mm) in diameter. See Specs tab.
Holes can be punched up to 1-1/2" (3.8cm) from the edge of the material.
Replacement dies are available.
Gingher Scissors
Gingher Heavy Duty Scissors are chrome plated and durable.
Rounded tips provide extra safety.
Blades measure 3" (7.6cm) long.
Heat Gun
Adjustable temperature for controlled heating of thermoplastics.
Ergonomic, lightweight design allows for superb balance and a comfortable grip.
Electronic, solid-state controller allows the easy selection and maintenance of any temperature from ambient to 1050°F (566°C).
Mobile Splint Station
Pliers - Cutting & Bending
A spring in the handle keeps Flat Nose Pliers open and ready for use. 
Great for gripping metal eyelets and hooks while splinting or embedding in warm thermoplastics.
Eyelet Punch
Heavy duty, all-purpose punch easily pierces splinting and strapping materials.

Samson® Punch requires minimal force to punch holes.
Easy-to-squeeze, spring-loaded handles.
Includes a 1/4" (6.4mm) die. Additional dies are sold separately.
Holes can be punched up to 1-1/2" (3.8cm) from the edge of the material.
Splint Pans